Antarctic Bottom Water Production in the Past 

In January 2023, the CSIRO research vessel (RV) Investigator will embark on a 6 week journey of discovery with 35 scientists and technical staff on board. This SOOS-endorsed voyage, nicknamed CANYONS, will seek to understand the drivers and variability of Antarctic Bottom Water.
Where are we going and why? The voyage is focused on the rugged submarine canyons offshore Cape Darnley, west of Prydz Bay, East Antarctica. Cape Darnley is one of only four regions on the Antarctic margin where cold, salty and therefore dense, Antarctic Bottom Water forms.
This water mass is a key component of the global ocean circulation. Changes in the density and production of this water mass have been detected over recent decades, linked to increased ice melt. This research will help us to understand the tipping points that influence the production of Antarctic Bottom Water by investigating different climate states in the past climate record.
What will our research involve? The team will undertake detailed bathymetric mapping of the canyons and adjacent drifts to find the best locations to collect long, continuous sediment core records. In addition, we will analyse seawater samples and use deep sea cameras to image seafloor life.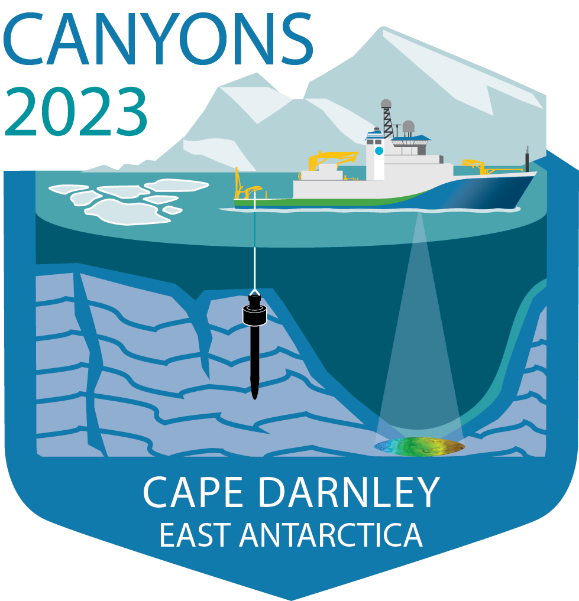 Complete seafloor maps will reveal where Antarctic Bottom Water flows through the rugged submarine canyons, and enable realistic ocean, climate and ecosystem models to be developed. Long sediment cores will reveal past changes in the ice sheet, sea ice, and ocean circulation. These records will unlock the history of Antarctic dense water formation during periods of Earth's history that were slightly warmer than today, providing important insight into ice-ocean-climate interactions and the likely response of global climate into the future. Large volumes of pristine Antarctic seawater will provide valuable insights into the processes controlling the distribution of trace metals in Antarctic waters, and will contribute to developing new geochemical tracers for past ocean and ice sheet change.
The area is one of 3 regions proposed as Antarctic Marine Protected Areas on the East Antarctic margin. We'll be using deep sea cameras to take the first images of the seafloor life in this remote part of Antarctica. The information we collect will ensure that this region can be protected into the future.
Follow our adventure! The team will be bringing their research to life through photography, video, blogs and podcasts released through the Australian Centre for Excellence in Antarctic Science and on Facebook, Instagram and Twitter via @CANYONS_voyage and #RVInvestigator.
Project partners: This voyage will be led by Geoscience Australia with researchers from University of Queensland, University of Tasmania, CSIRO, Australian National University, University of Canberra and Tokyo University, and collaborators from the Alfred Wagener Institute. 
The work is supported by an ARC Discovery Project, the ARC Australian Centre for Excellence in Antarctic Science and by a grant of sea time on RV Investigator from the CSIRO Marine National Facility.
News article 30/Nov/2022 by Alix Post